Customized Children's Spaces
We provide services of planning, designing and implementation.
Children Interior and furniture Designer Coimbatore
An innovative, service that your children will find immense joy in.
Our kids' spaces are built for growing years, are multi-functional, and a lot of fun.
Sustainability and eco-friendly is the base of our design ethos.
What Do We Do?
From master planning and concept design through to specification and implementation.
Our full-service approach makes communication and implementation easy and eliminates the stress. Check out the process.
Little Agastya's parents
Little Agastya's parents wanted to create a space for him that was safe , functional , subtle and FUN!
In the little room , we designed and executed an integrated seating unit with beautifully handcrafted cane baskets . A fold away table that becomes a shutter when collapsed , a little scribbling blaackboard shutter and an open library at arms length are some of the FUN features we incorporated in this cozy space. Maximising the small space , while also optimising the functionality , we kept the material board simple, classy and very natural .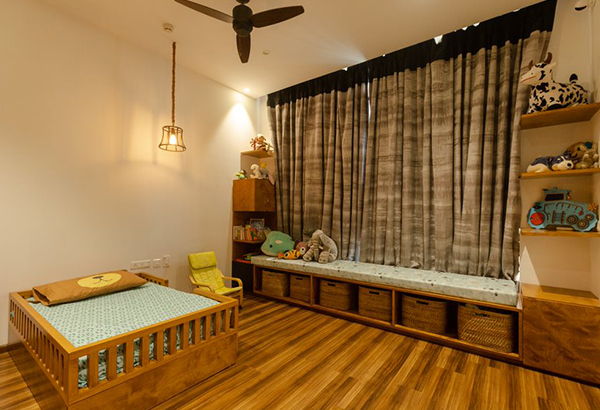 Project With virtual schooling changing the way children study
With virtual schooling changing the way children study, a sturdy and well designed integrated unit was the need of the hour for little Anika and her sister just like so many children around the world ! During the lockdown with all the meetings completely conducted virtually , our team handcrafted this custom designed unit exactly to fit the space and client requirements .
Optimizing  ample storage and seating space for 3 , the integrated study unit has soft subtle colours which creates its subtle presence despite its large structure. With an inbuilt handcrafted channapatna stationary tray which moves on its own rail, the 2 sisters can share the stationary efficiently and it adds to the element of FUN !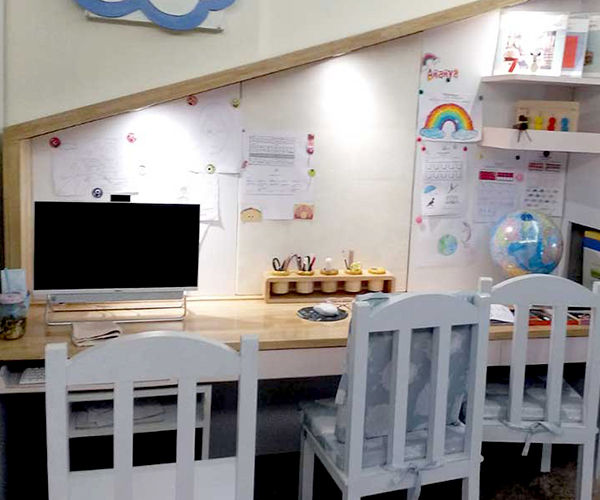 Kinder Garden, Playschool, School design
While designing a play school or preschool interiors, emphasis is always on visual education. The medium enables kids to learn by self-analysis and observations. The objective is to create an environment where learning is fun. Kids play in schools or preschools is the very first step on a ladder where children start learning about the outside environment through informal learning. A play school interior designer has a crucial role to create a world of learning with a brightly, touchy, soft, and cute indoor and outdoor environment. Playschool design is a creative as well as a challenging task, that's why it's highly advisable to trust the most competent one. My Funiture Story is a leading Playschool Interior Designer and furniture provider in Bangalore.
A Good play school aims to bring awareness about colour, forms, shapes, and numbers by the depiction of these through various physical and visual mediums. So, it's obvious that the Architecture and Interiors of playschools tend to revolve around various forms and colors. Apart from visual aesthetics, there are a few other important factors that determine a good design safety, hygiene, lighting, and ventilation inside play school.